When it was time to replace my last keyboard, I decided to give Razer Blackwidow Ultimate a shot. With strong backlit keyset, mechanical inner design, full macro and programming support and five extra keys to throw macros on.
The Razer Blackwidow Ultimate offered a great feature set for a gaming keyboard. I have been a huge fan of Razer's gaming mice and headsets for years now. I was curious to see if their keyboards provided the same high-quality results and dependability. As with most of Razer's products, this keyboard had a lot of marketing hype to live up to. The two biggest features of the keyboard are the mechanical keys and the programming functions. While the programming function can be found on many gaming keyboards, a mechanical keyboard can be hard to come by. Razer claims this design provides more responsive keystroke with less travel and firm feeling while typing.
Easier to use for all types of work:
Mechanical keyboards are supposed to be easier to use for extended gaming sessions. It provides better ergonomic benefits than their membrane-based competitors. Upon unpacking the keyboard, I was presented with a high-gloss black keyboard with an aggressive angular design. Keyboard felt substantial in my hands and included stands on back made for solid and stable fit on my desk. Having a glass desktop, I have had many keyboards that liked to shift and slide around during intense use. Between the weight and high-grip rubber feet on the Razer Blackwidow Ultimate, I have yet to experience this issue. With raid time coming closer, I load up World of Warcraft and got ready to put keyboard to the test. From the moment you start typing on the Razer Blackwidow Ultimate, you notice the difference mechanical composition makes. The keys respond with light pressure and provide a satisfying and hearty feel and sound.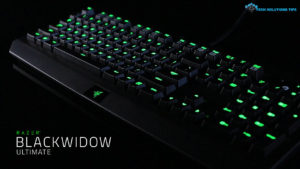 Best keyboard for your use:
As a healer for the raid, split second decisions and frantic keystrokes are the norm. At first, I found that the sensitivity of the keys threw off my rhythm slightly. But found that I could actually register a keystroke without fully pressing the key. By being able to double-tap keys and quickly transition from one key to the next. My overall response time decreased and my command throughput increased. With the extra macro keys the Razer Blackwidow Ultimate provided. I could keep big heals and emergency damage prevention within finger reach for those surprise moments. Best of all, after five hours of solid gaming my fingers and wrists felt good. There were not aches or fatigue as I had experienced with some keyboards. Beware-If you are looking for a whisper quiet keyboard, the Razer Blackwidow Ultimate is not the keyboard for you.
However, I found that I enjoyed the sound the Razer Blackwidow Ultimate made and the direct feel the keys provided.  It gives you lots of benefits and I knew you will definitely like it. You have to use it for once and then you will understand its importance.